An important message regarding our COVID-19 response.
At Bosa Foods our commitment to our customers and staff is to provide a safe shopping and working environment – it is our top priority.
As an essential service, we'll be here for you through this extremely difficult time with the groceries you need to feed your family.
We are monitoring and taking action on all Federal, Provincial and Local health advisories as they are announced.  We have implemented the following measures to ensure our stores are safe environments for customers and staff alike:
Increased cleaning frequency, especially areas that are high traffic and high touch. Plexiglass shields have been installed to separate cashiers from customers at checkout.  Our employees are exercising precautions to safeguard their health, and the health of our customers and community. This means staying home if they show any symptoms or don't feel well.  All employees not directly involved with retail operations are working from home.  Disinfectant wipes are available to wipe down grocery carts and baskets before use.  There is no shortage of products in our stores, so please continue to shop as usual. Pasta Tuesday is suspended, and all public seating areas have been closed or removed.
Let's work together to stop the spread of COVID-19; practice social distancing, wash hands often and stay home – going out only when it's absolutely necessary.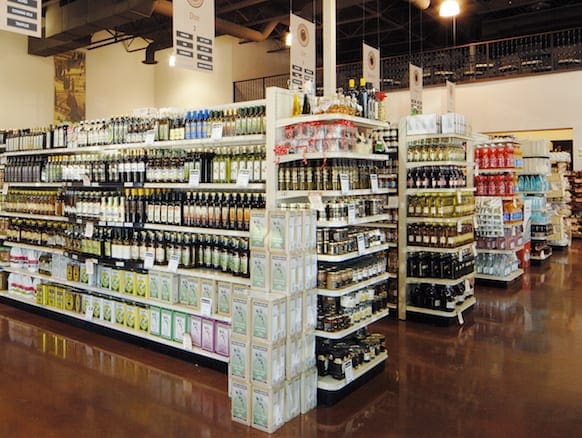 Click here to experience our world of Specialty Italian and Mediterranean Foods. Recipes and information on everything from olive oil to wine making are found here. Enjoy!
For over 60 years, BOSA FOODS has been a leading importer and distributor of specialty Italian and Mediterranean food products to the foodservice and retail markets in Western Canada.
Welcome to Our Cucina Italiana!
Discover the finest products found in the Mediterranean Diet and Italian Culture right here. Imported Italian Specialty Foods, delicacies and hard-to-find ingredients are found on our shelves. We import the finest quality Italian Specialty Foods; everything from olives and olive oil to seasonal treats and spices. Visit us soon, shop, enjoy, and have a delicious homemade panini and espresso in our cafe.
1465 Kootenay Street Vancouver, BC V5K 4Y3 - Phone 604-253-5578
Monday.........................8am-5:30pm Tuesday........................8am-5:30pm Wednesday...................8am-5:30pm Thursday.......................8am-5:30pm Friday............................8am-5:30pm Saturday........................8am-5:30pm
Closed Sundays & Holidays
562 Victoria Drive Vancouver, BC V5L 4E2 - Phone 604-216-2659
Monday.........................8:30am-6:00pm Tuesday........................8:30am-6:00pm Wednesday...................8:30am-6:00pm Thursday.......................8:30am-6:00pm Friday............................8:30am-6:00pm Saturday........................8:00am-5:30pm Sunday.........................10:00am-4:00pm 
Holidays...........Closed